Selena Leu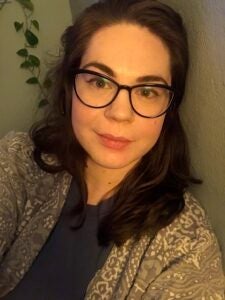 Education: B.S. in Biochemistry from Sonoma State University
From: Santa Rosa, CA
Joined David Lab: January 2023
Outside of lab: I enjoy painting, gardening and taking care of my leopard geckos.
Research in David Lab: Contributing to the NEIL project.
Previous Research Experience: At Sonoma State University I had the privilege of working with Dr. Lares in her biochemistry research group. My project focused on establishing the gp120 RNA aptamer as a negative control for B cell activating factor receptor (BAFF-R) binding affinity assays. In non-Hodgkin's lymphoma (NHL) cancer patients there is an overexpression of binding between B cell activating factor (BAFF) and BAFF-R, which is a transmembrane protein that spans the phospholipid bilayer of B cells. The external portion of this protein is what binds BAFF and this research group investigates different aptamers binding affinity to BAFF-R to learn more about the binding relationship and explore ways of inhibiting BAFF binding BAFF-R.